Edit 2: Eleven episodes in and iZombie is still going strong! "Astroburger" may even be the show's best episode yet (or tied for first?)!
Edit: Eight episodes in and iZombie has already been renewed for season two… and we couldn't be more excited, as the show is still kicking @$$ and taking brains every Tuesday night!
Veronica Mars, the Power Rangers, and a zombie walked into a bar; they called themselves iZombie and proceeded to "kick @$$ and take brains", as promised. More specifically it was the creator of Veronica Mars (Rob Thomas) and Yellow Bear RPM Power Ranger (Rose McIver, also Tinkerbell from Once Upon a Time) who also happens to be a zombie every Tuesday night at 9/8c on the CW. (You've only missed one episode, which we've watched twice already; and you can – and should if you want to be watching the best show on television right now – catch up on your iZombie by clicking here).
Being fans of good comics and television in general, we had a choice to make this week: sticking with what we do every Tuesday night, saving the world a la Marvel's Agents of S.H.I.E.L.D., or taking Vertigo/DC Comics' iZombie for a spin. As you may have guessed already, we went the way of the undead…and spoiler alert: we're glad we did!
The world is a better place when Veronica Mars' Rob Thomas (not the singer) is writing for TV, because he's clever and witty and deadpan and awesome – so by extension the characters he writes are equally clever/witty/deadpan/awesome; and let's be real: we were all going through Rob Thomas withdrawals. Well, Marshmallows, withdrawal no more! As though from a page out of Veronica Mars scripty goodness, Olivia 'Liv' Moore ("Live More", Rose McIver) is a tiny and blonde, witty and snarky (dead alabaster) bad@$$ who took classes at the Kristen Bell School of Voice Over/Narration and passed with flying colors! Liv's newly formed "scooby gang" is equally engaging, from her morgue boss' eccentricity and ridicu-interest in his discovery of Liv's "condition" – what he views as a sort of curable disease she's contracted – to the noobie homicide detective's high-strung personality that contrasts with Liv's "whatever vibe" so perfectly as they solve their first murder together thanks to Liv's "psychic gift" (which isn't really psychic so much as it is that she's eaten the brain and absorbed the memories of the murder victim, all unbeknownst to her new cop buddy).
"Wait, why is this chicky bad@$$ eating brains?" Great question. Long story short, she's come down with a slight case of zombie and has to eat a brain a week so she doesn't "go all George Romero" – in other words, it keeps her from getting all dumb and ragey and eat-the-brains-of-the-innocent-y. That's right, our girl only eats the brains of the already deceased, which is why working in the morgue is sort of ideal for her unique situation. Paired with absorbing the memories of the already-dead, and in many cases murdered, Liv is invaluable when it comes to solving murder cases. All in all, aside from being dead (err, undead?) she's got herself a pretty sweet setup, which in turn gives her a reason to get up each morning and save the day, which is ten steps up from her normal (at least since she's become undead) "post-traumatic ennui, post-traumatic defeatism, post-traumatic what's the point…" She's not your typical superhero, or your typical zombie, but in a time where you can't sneeze without a man in a cape saying bless you, or without alerting a zombie horde to your presence, variety is more than welcome… so thank you for that, Rob Thomas & Company!
Beyond absorbing the memories of her patients-turned-meals, she also takes on their personality quirks; in the pilot, she has an uncontrollable spell of kleptomania since the dead callgirl she eats (the brains of) couldn't keep her own paws off what didn't belong to her. From the looks of the preview of next week's episode, it seems she's acquired quite an affection for a gal whose "skin was like butter" – take from that what you will. This new personality trait thing should help keep the show interesting even in its low points (if it has any – but so far, there are none to be found).
AND WE CAN'T FORGET THOSE OPENING CREDITS / THAT THEME SONG. TV show opening credits and theme songs seem like a thing of the past these days, but iZombie broke the mold/went back in time and gave us one anyway! Done entirely in comic art by the original iZombie comic artist (Michael Allred) and featuring the song "Stop, I'm Already Dead" by Deadboy & The Elephantmen, the intro/theme song is gorgeous, playful and informative, offering a quick retelling of how Liv's new (un)life came to be – and we're just plain glad it's there – so thanks for that, too, Rob Thomas & Company! (See the intro below.)
In summary, iZombie hardcore kicked @$$ and took brains, pulling a 5 out of 5 star/brain rating. Sorry, Agents of S.H.I.E.L.D., but consider yourself DVR'd – at least for now.
If you missed the premiere, don't fret – you can (and should) watch the pilot episode of iZombie by clicking here now so you can watch episode 2 live with the rest of us this Tuesday at 9/8c on the CW!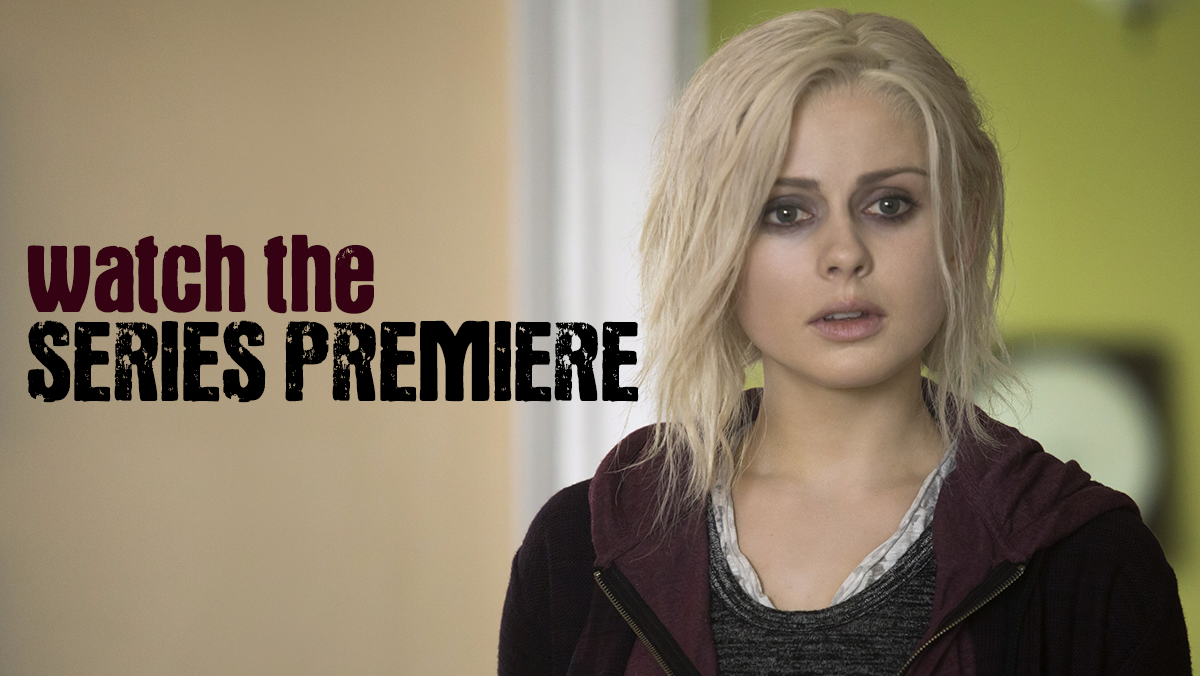 *iZombie swag you can get right now!*
iZombie vol. 1 (click here to buy)


iZombie comic statue (click here to buy)

–
got a nerdy mind? Stay tuned to Nerdy Minds Magazine on Facebook and @NerdyMindsMag on Twitter for more nerdy news, reviews, interviews, deals, and more! You can even subscribe to have each new post delivered straight to your inbox so you're sure you don't miss out; simply scroll to the bottom of the page (yes, all the way down) and opt in! You won't regret it!