The hobby of cosplay has changed a lot since I fell down the costuming rabbit hole in 2010. I've spent a lot of time and money and convention panels talking about the craft of cosplay. As much as the hobby continues to morph and be the subject of reality shows, instagrams full of "cosfamous" people, and heated online discussion, there are four very important principles I believe all cosplayers should adhere to.
 1. Cosplay is for everyone. And I mean everyone. Your race, gender, size, age, or disability does not matter. If you want to cosplay as a character, and you have the vision, resources, and drive to do it, that is all that matters. If you want to do a gender-swapped cosplay or a mashup cosplay or create a look for an original character, do it. If you want to go super elaborate and build armor or make a corset, do it. If you want to cosplay out of your closet or use ready-made items from Her Universe or Hot Topic other geek fashion lines, do it. The road you choose is yours – and you can change your focus at any point during your journey.
2. Cosplay isn't a contest. Sure, there are contests. Sometimes there are even prizes. But at the end of the day, you win at cosplay if you are proud of what you've made and if you feel great wearing it. If you want to enter a contest because you're proud of your costume and also want constructive critique or applause, that's fine. But that shouldn't be the only reason you do it. There are a small percentage of cosplayers that make a living off of this hobby, but your personal success should not be compared to theirs. Your success hinges on the fact that you had the desire to make a costume and you did so to the best of your abilities.
art by HinoNeko
3. Cosplay is fun. Would anyone get dressed up in multiple wool layers in the summer heat if this wasn't fun? Would anyone wear next to nothing in the bitter cold if this wasn't fun? Would anyone spend tons of time researching, sourcing materials, sewing, styling, and generally suffering for their craft if it wasn't fun? I don't think so. Everyone's done something ridiculous for their cosplay but at the end of the day, they end up hanging out with friends, having fun over dinner or drinks, or taking silly photos, or attending panels and learning more tips and tricks.
4. Cosplay isn't consent. It can be super exciting running into other cosplayers and see your favorite characters represented. This doesn't mean you should run up and hug them without asking first. The same goes for taking pictures, especially if someone is sitting down, eating, or taking a phone call. Be polite, ask for a picture, and say thank you. If you want a closer look at a particular detail of a cosplay, always ask. Most people are happy and excited to talk about their cosplays and the work that went into it, but others may be more standoffish – everyone is different, so respect their wishes.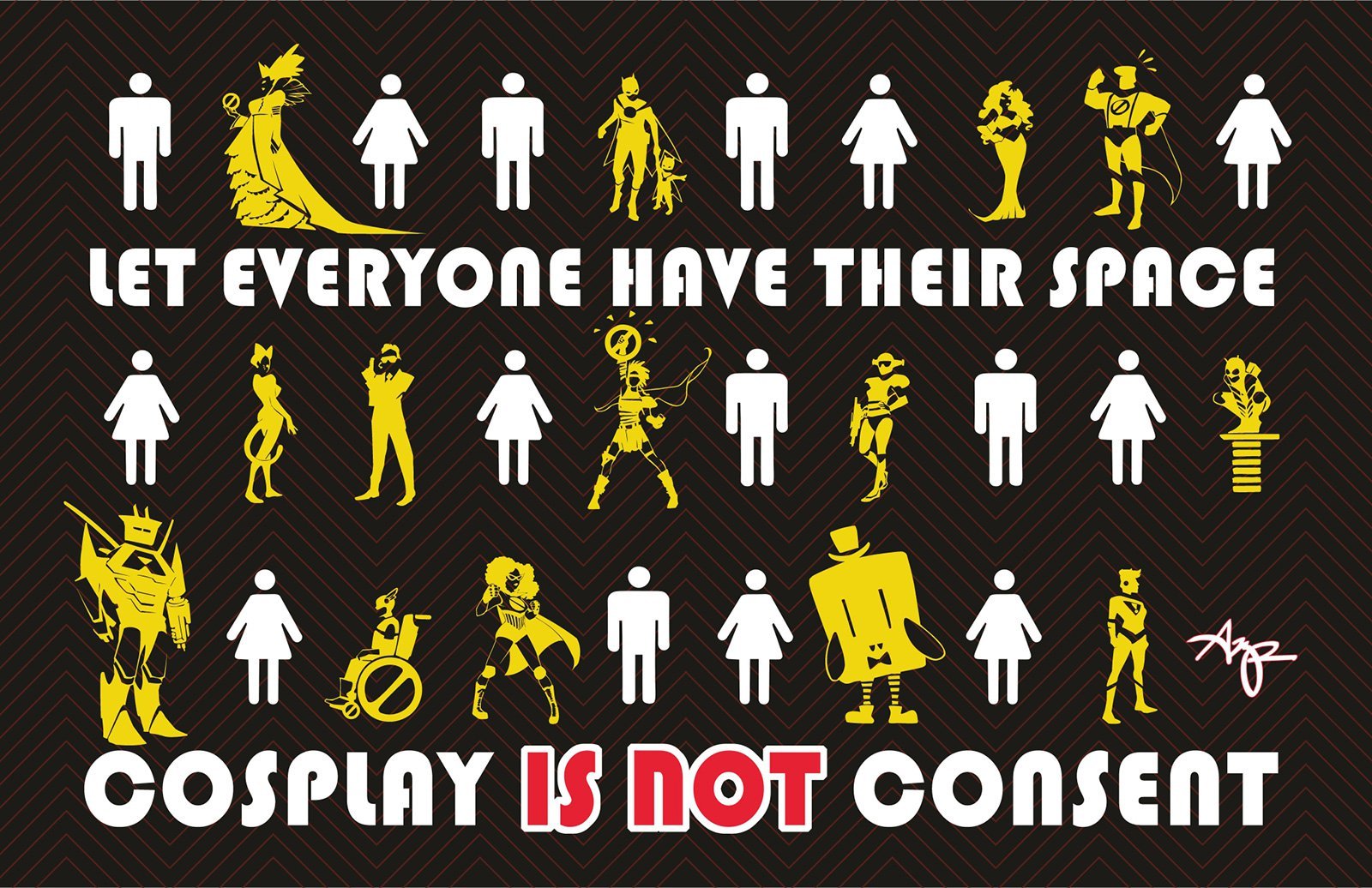 So whether you're a seasoned cosplay pro or a newbie just getting started, remember to be true to your vision and kind to others. At the end of the day, we're all passionate geeks who want to express ourselves through costuming.
---
Please keep up with this author's writing by liking her on Facebook!
---
This post brought to you by Rachel Stewart. Rachel pushes word around on pages for a living. When she's not writing, she's usually at a convention near you, cosplaying or talking about Doctor Who. You can follow her random thoughts on tea, costumes, and links to her latest blogs on pop culture at All Back to Front. Her geek writing has also appeared on FangirlConfessions.com and ESOpodcast.com, and she loves showcasing Chattanooga-based geeks in her monthly Alter Egos column at Nooga.com.
---
got a nerdy mind? Write about it! Take a look around to see what we're about, and contact us with ideas on something you'd like to write or something you want to read by one of our already-authors! Keep up with Nerdy Minds by following @NerdyMindsMag on Twitter and liking Nerdy Minds Magazine on Facebook.