It's been one day since the news of the brand new creative team that will, starting in October, be the nerdy minds behind DC Comics' Batgirl. Leaving the series is longtime (amazingly talented) Batgirl writer Gail Simone–this by her own choosing about which she has quite the sense of humor (see below) which will hopefully soften the blow for her fanbase–making way for a dynamic (writing) duo made up of no strangers to DC Comics, Cameron Stewart (Batman Inc.) and Brenden Fletcher (Wednesday Comics). Much like the rest of you, we're sad to see Gail go, but we trust–and more importantly, SHE TRUSTS–that she's left Batgirl in capable hands!
With the new writing team comes a new artist, newcomer Babs Tarr (we'd be lying if we said we weren't geeking out about the fact that Babs will be drawing Babs). Babs (Tarr, not Gordon…or I guess, technically both?) brings with her a killer redesign (along with co-writer/artist Cameron Stewart) that I for one am a super-fan of! (EDIT: Color  by Jordie Bellaire)
Not only does the updated costume just plain rock, but it MORE THAN ROCKS for cosplayers like us. On behalf of cosplayers everywhere, THANK YOU TO THE NEW BATGIRL TEAM FOR KEEPING COSPLAYERS IN MIND FOR YOUR REDESIGN! You guys, they seriously PLANNED FOR HER TO BE COSPLAYABLE!
I'll try to keep the fangirling to a minimum (THOSE DOC MARTENS THOUGH!) so we can move onto reason #2 for this feature: BATGIRL 2014 REDESIGN FAN ART. We've compiled a picture-list of our personal favorites (so far). Without further ado, and in no particular order… the fan art! (NOTE: If we favorited your art on Twitter, it means we LOVE it, but we tried to mix it up in terms of art style, etc., and we could only pick 10…and it was RIDICULOUSLY hard to choose! EDIT: I'm still coming back to this and having to add more because there keeps being more and better/just-as-good art that we missed on the first round! But WE ARE trying to keep it to finished art only as opposed to quick doodles and also to ones from Twitter for easy linking…)
(Pay close attention to which # is your favorite and give a little love for it in the comments!)
6.

7.

BONUS: New Batgirl with the new Spider Woman (Gwen Stacy)! Look for our post on Gwen art coming soon!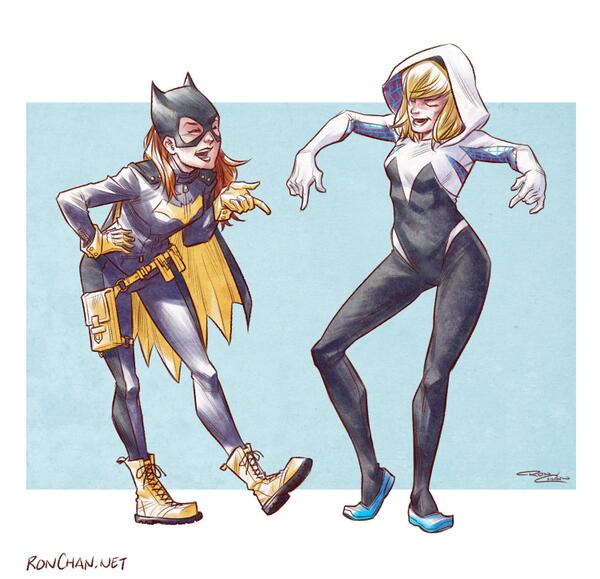 2.5 questions, Batfans…
a) What do you think of the big changes to Batgirl (and the team behind her)?
b) Which is your favorite piece of fan art of her redesign (YES, it's okay to pick your own!)? b.2) If it's not one we've shown here, where can we find it?
Let your voice be heard (read) in the comments!
---
got a nerdy mind? Write about it! Take a look around to see what we're all about, and contact us with your ideas! Keep up with Nerdy Minds by following @NerdyMindsMag on Twitter and liking Nerdy Minds Magazine on Facebook.